You must have read posts about visiting Delhi for various good reasons. If not, don't worry here is the best one to read for the first timers and if yes, here is something better to read. Amongst all the good or bad reasons to visit Delhi, here are some out of the box reasons to do it. The fun in travelling and exploring a new place is in finding and observing something that you cannot experience anywhere else. Each country and city in this world is designed in such a way. Different cities, different people and different experiences. That's what a traveller wants from her/ his journeys.
Delhi is a complete package for everyone and it will astound you with everything it has, be it good or bad, sweet or sour and small or big. With so much in store to dissect, it indeed deserves to be the Capital of a versatile country, India.
7 Fun & Weird Reasons to Visit Delhi
1. To Breathe in the Polluted Magical Air
Delhi was ranked number 1 in terms of air pollution in 2014 by the World Health Organization. According to WHO's report of 2016, Delhi is now 11th on the list. But even that's not a good number. I was actually stunned to know that 10 Indian cities rank in the top 20 list of most polluted cities in the world. And also, I can't believe that Delhi's rank dropped since the pollution seems to have and not vice-versa. Some guidelines for calculating the pollution levels must have been changed.
Anyways, you gotta come and experience the air of Delhi even for a few days. The polluted air of Delhi has some magical elements in it that will definitely make you a fan of this bustling city. The people, historical building, arts, gardens, music, culture and food add their own cent to Delhi's air too. And after that, you can go back and tell others that you survived the air of Delhi. 🙂
2. To Get a Feel of Living in an Overstuffed City
Another thing that the Delhites can boast about is the population of their city. The capital city has a population of more than 26 million and the population density of 9340 per sq km. People from all over the country flock to the city in search of livelihood and shelter. It has a lot of migrants from other states who came to the city decades ago and had been living here since then. Students and professionals from all over the northern region come here to fulfil their dreams.
The moment you step out of your house or hotel, there will be bundles of people strolling around on their legs and vehicles. There is chaos all around but still, you will observe how people adjust to all of it an move on with positivity. Except for some parts of South Delhi, the whole city is over-crowded. Less space and fewer minds. Due to its huge population, there is a lot of diversity in everything. Various ethnicities, cultures, beliefs, languages and religious practices. All of this will make your Delhi experience very rich and something you will remember all your lifetime.
3. To Eat Unhygienic Street Food and Still Enjoy It
If you know that Delhi has some of the best street food in the country then you are bang on right. Specifically the Old Delhi area and some parts of central and southernDelhi have some mouth-watering spicy dishes to satisfy your taste buds. As I mentioned the city or the country as a whole is very polluted and dusty. But instead of it, lakhs of travellers come to visit Delhi especially to give their mouth some exercise by savouring the yummy-licious street food.
Believe me, the street food that you will get here will taste so good that for once you will forget about it being hygienic or not. Anyways, if you are a foreigner to this soil, you should try it at least once because it might be a once in a lifetime visit to Delhi until the flavour of the food pulls you back again to Delhi. And eating it like occasionally doesn't affect your health much. Common.., even if you get a little bit ill, you can easily find medical stores in every market in Delhi. Just eat a few doses and your stomach will be fine. (You may or may not take my words seriously, i joke sometimes. 🙂 )
If you are wondering that why don't the peeps here get sick after eating such food? Well, our body has been accustomed to eating such food and doesn't affect the health so easily. It does affect but in long term and then we repent. Rather if someone eats outside every day and misses out on a day, then their stomach starts behaving weirdly and demands the street fast food. I surmise this is one of the best reasons to visit Delhi.
4. To Get Stuck in the Traffic Jams and Restfully Waste Your Time
A staggering population means a vast number of vehicles on the roads as well. Now, most of the roads can't be expanded due to lack of space. According to an economic survey done, there were around 97 lakhs motor vehicles running on the roads of Delhi in 2015-16. How can someone not expect to have traffic jams everywhere?
You can see a big traffic jam every day no matter where you are putting up in Delhi. A single car's breakdown on a busy road can cause a few kms of jam behind since the traffic starts narrowly merging to move ahead. According to a report, 9.6 lakh vehicles were added to roads of Delhi in 2016. There are 950 signalled (traffic light) intersections and 457 unsignalled intersections according to the report published by Delhi Traffic Police.  And to make things worse many of us don't like to follow the rules. All of these reasons are enough and act as building blocks for jams. You can shoot some very good pictures of the jams
All of these reasons are enough and act as building blocks for jams. You can shoot some very good pictures of the jams from a flyover or a high rise building. I have seen many foreigners doing that as it is something very rare to see in their countries. I wouldn't be amazed if someone interested in video logging can make a documentary on the jams. You can get cool shots and do an excellent time-lapse photography too. Also, one can get to see cows, buffaloes and dogs accompanying you on roads.
5. To see the Indian Meaning of Traffic Lights
Alright, this is the best one I thought of. Generally, the 3 colours of traffic signal mean Stop, Slow Down and Go all over the world. But in Delhi or if I talk about most of the Indian cities, the traffic lights have a completely different meaning in the dictionary of Indians. They simply don't like following the rules.
Isn't it funny? I am sure anyone who has not come to India before, will be amazed to see this happening even in the capital city. Well, there will be this and many other different experiences altogether to observe on your visit to Delhi.
6. To Learn the Art of Bargaining
If you need to learn and practise bargaining, you have to come to India and specially Delhi. It is a shoppers paradise and believe me, Indians love to bargain more than actually shopping. The shopkeepers will tell you a price they want from you (i am referring to the non branded shops or the local and street markets) and that's not what it might be worth. So all you need to say that 'it is too high or you are getting it at a better price from another shop'. Secondly, pretend to move out of the shop and in 90% of the cases the vendor or the salesman will come after you and offer a lesser price than the original one. You may enjoy negotiating it further as well if you love to.
There is no limit to bargaining. Usually, the things sold in flea and street markets or at local stores can be bargained up to half the original price. But it all comes with practice. You can practise it here and go elsewhere in the world especially in other South Asian countries where it will be a useful weapon to save your money. It is a good method to shop and save money if you are travelling on a budget. If you have a friend in the city, then she/ he can teach you the skill more effectively. Doesn't it sound interesting and cheap as well? HAHA..! 🙂 Don't worry no one will think about you so, as everyone does it.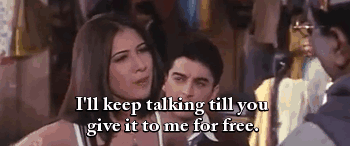 7. To Observe and Learn the 'Jugaad'  (Art of Fixing Things)
Jugaad is an Indian word or rather a Punjabi word (Punjabi is a language that has its roots in the state of Punjab) that means the art or skill of fixing things without any technical know-how or expertise of the things. So it's like repairing anything that's not working or finding a solution to any small or big problem or way to do any work that seems next to impossible. When Indians are stuck in a serious problem, that's only when they apply their imagination to solve or fix things. Here are some pictures to better explain it-
If you have 2 kids and a bicycle and you need to drop them to school. You may do the following.
If you don't want to stand in a bank line before its opening, you may place your footwear in the queue rather than your body. This acts like a stamp as to where are you in the queue. Oh God, so much much laziness. You must be laughing, I can bet. 🙂
Are you so addicted that you don't want to stop a movie on your laptop or doing an important work and your stomach is urging you to go to the toilet? Try this.
More waves of laughter for You. 🙂
I mentioned these outlandish reasons just for letting you know that how you can observe and get acquainted with the city in sundry ways. So grab your backpack, leave the logical mind in your home or hotel and with all the confidence explore the streets of Delhi.
So folks, what are the reasons that trigger you to visit and explore a new city? I mean for the love of art, history, food, or any other weird reason? Please share your thoughts in the comments below or any of your bizarre experience or observation about any city. Would love to know about it. 🙂
Liked It? Pin It!
---
You might also like